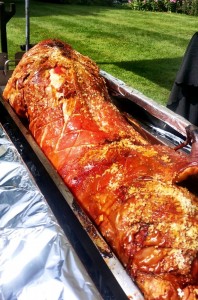 There are plenty of hog roast Burwell catering packages for you here at Spitting Pig, each one constructed with attention to detail from many years of on-site involvement in food production and event management. No matter what type of your event you're planning, you'll easily be able to locate on our menu page one that will spark your interest and creativity.
The menu categories to choose from are party menus, Christmas menus, wedding menus and corporate menus. It's very easy to find a menu for your event, just click on the relevant category and within will be a choice of different menus, from the most booked package of a hog roast roll to a large buffet menu.
The Best Hog Roasts In Burwell
What all the menus share as well as the regional produce of the food is that they're utterly scrumptious, it doesn't matter which choice of menu or dish, you'll be taken aback by the quality. We make each item of food we cook as good as our notoriously sizzling spit roast pigs… Okay, maybe not as good, that's asking too much, but we do our damnedest to match the best hog roast in the world with other exquisite, professionally made dishes. It's not just roasting pigs that we've mastered, we have the same talents for spit and tray roasting all meats, whether whole or cuts. We can cook whole chickens, up to 30 at a time, they're delectable just like our pig. A sirloin of beef, whole turkey, whole lamb and a chicken kebab are the other spit roast options. You can have faith that no matter what you pick for your event, be it a spit roast lamb or a selection of canapés, they'll come with unreal quality and hearty goodness of our main hog roast attraction.
Spitting Pig makes such stunning hog roast Burwell food on a consistent event-to-event basis because we have the same loyalty to our farmers that our clients have to us. Produce used for Spitting Pig catering is regional in most cases and is also organic, whether meat or veg. The regional free range spit roast menus go down a treat with all occasions, from graduation parties to a business meeting or wedding or anniversary event. Our services are used by a surfeit of individuals and businesses, they call us because they know that no matter what the job is, a hog roast for 15 or a hog roast for 3,000, that we're the number 1 with the talent and background that's needed to successfully complete in professional fashion an elite catering service.
Leaders In Our Field
One of the biggest bonuses of hog roasting, often the most important reason for people booking Spitting Pig, is that we can cater outdoors without any change in quality, with the same excellent hog roast standards of delicious food that we always had. We consider ourselves the best in all environments, but a gulf in class is really made apparent with the marvelous food and services we can provide for your outdoor event. In the summer months we often cater at large outdoor festivals, at times for several thousand people, so an outdoor event any less than that is a walk in the park for us.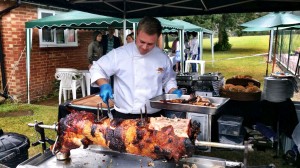 You can even get the same outdoor hog roast if you hire a machine and do it yourself with a hog roast hire Burwell package. Our machines have excellent wheel design for easy movement, so when you hire you can take it practically anywhere. A hog roast machine will come with many added bonuses, one of those being that when you hire from us we can provide you with attachments, adjustable ones, so that you really can spit roast anything that you like. Many other machines out there have outdated skewers, they're very impractical as far as varied use is concerned. With ours you get all the practicality in the world. Chickens, pigs, commercial kebabs and potatoes are just few of very many foods that you'll get to cook when you hire a Spitting Pig hog roast machine.
The good thing about hog roast hire Burwell is that hog roasting doesn't require you to have any prior familiarity. Even if you've never touched a hog roast machine in your life, within minutes you'll know exactly what you're doing. The real trick to a tasty hog roast is to use a good machine, which we'll of course provide you, and good produce, which you can get from us with a machine or buy yourself – after that it's having a keen eye and knowing when the pig, or anything else you cook, is ready.