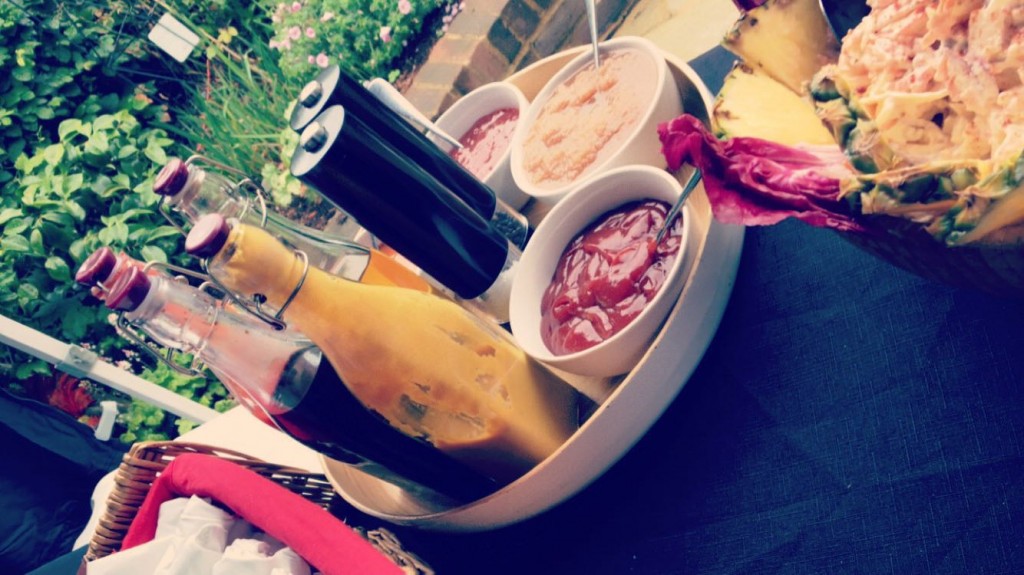 You have most certainly come to the right place here at Spitting Pig Cambridge if you are wanting to experience the best catering service around and be apart of the best loved Hog Roasts within this area. The Hog Roast Catering business started off very small and has continued to strongly progress throughout the years. It started off as a pig sandwich and has now expanded to a new concept of catering. With business booming not only do we cater but we hire the machines, have numerous teams and professional staff, and our own means of transport.
Spitting Pig Cambridge strive to stand out from the other catering companies in the area and we pride ourselves on being one of the best that the county has to offer by providing outstanding catering services time after time. Those who have had the pleasure of using our catering services and sampling our Histon hog roast food in the past will know that the food we serve and the service we bring is second to none.
What makes Spitting Pig Cambridge stand out?
So if you wish to experience this amazing food and service for yourself then I suggest you read on and find out exactly what kind of catering goodies we can bring to you and your guests. First of all you are probably already aware that we are famous for and specialise in the Fulbourn hog roast. The Spitting Pig Cambridge hog roast is like no other, Fresh, locally sourced quality pig roasted slowly to absolute perfection, it really is head and shoulders above our competitors.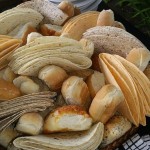 To accompany your Prescot hog roast we will provide all the extras and sides that you desire and we can make this as simple or as elaborate as you like. For example if you requested a relaxed informal buffet style that we would serve your hog along side fresh bread rolls, (straight out of the oven from the bakery in Prescot) home made apple sauce and our secret recipe stuffing plus not forgetting hot strips of our crispy crackling. This is the perfect menu to serve up a great and tasty but simple and informal snack type menu. If you require more then Hog Roast Cambridge can provide more we have a range of signature side dishes such as salads, rice dishes, pasta dishes, plus of full range of healthy vegetable based sides that we prepare using seasonal, locally grown veggies from the farms just outside Hardwick. Add one or more of our tasty potato dishes and you have turned a Hardwick hog roast snack into a hog roast feast.
Hog Roasts & More
If this still is not enough to impress you then why not consider our extra courses? We offer a full range of starters, home made desserts and even canapés so you can really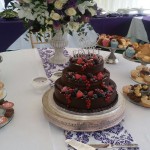 push the boat out and enjoy a four course banquet. If all of this sounds good to you so far but you are not the greatest fan of pork then don't worry as we have plenty of alternatives for you to tuck into. Yes we might be famous for our Hardwick hog roast but they are not the only tasty meat roast we can provide. We have a full range of meat options that can be cooked on our machines and will result in the tender melt in the mouth texture and flavoursome meat. The other popular choices with our customers are lamb, beef, chickens and turkeys.
Our whole spit roasted lamb is really popular in the Spring and Summer months and we slowly cook t to perfection before serving it up with a wonderful mint and mustard sauce. Joints of spit roasted beef always go down a treat with our customers. We can provide a range of menus based around our spit roasted beef from a simple hot snack to a full roast with Yorkshire puddings and all the other yummy trimmings. Spit roasted chickens work great when we are catering for smaller number of people or as an extra option along the side the hog roast for non pork eaters. All of our chickens are free range and sourced from a lovely farm just outside Histon. Once we enter into December more than fifty per cent of the catering events we do are for our wonderful spit roasted turkey menus. Perfect for the Christmas party season we cook ours slowly to produce a wonderful moist and tasty meat and we serve up with home made cranberry sauce and all the other Christmas party favourites.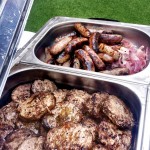 And if there is not something in that lot to get your mouth watering then we also do have fantastic range of barbecue menus. Take a look at our menus today and I'm sure you will find something you fancy for your next event. If you have very specific ideas then give us a call or email as Spitting Pig Cambridge are always more than happy to work with the customer and create a personalised menu. Finally its not just the food that we will provide we also take of all the extras you may need including cutlery and crockery (both disposable and real china and silver wear available) napkins, serving and waiting on staff, serving table and if there is anything else you require then please just ask and we will be more than happy to help.
[+ show][- hide]