So now you have had a chance to read all about Spitting Pig Cambridge and what we have to offer perhaps you what like to find out more about how we can provide our Sutton hog roast catering at a party or event that you are planning in Chatteris, Soham, Waterbeach or wherever else you may be. Well then why not get in touch with our office today and receive you very own Waterbeach hog roast catering quote?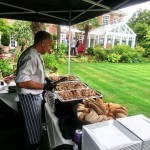 At Spitting Pig Cambridge we treat each and every client and their events individually. After many years in the events and catering industry we have learnt there no two events are exactly the same and therefore should not be priced the same. This is why we run a personalised quotes services. Taking the basic details of the event (date, location, number of guests and menu requirements) and your personal requirements into account we will provide you with your very own quotes. We aim to be completive with other Chatteris hog roast caterers in the area and will give your the best possible prices.
It really could not be easier to get in touch. You can either call us on our free phone number, email us or simply fill in one of our enquiry forms. If you call the Spitting Pig Cambridge office a member of our office team will be happy to assist you. They will take your information and special requirements and arrange for an email quote to be sent out within a hour. Please note our office staff are always happy to discuss your event and needs with you and answer any queries that you may have but they cannot give prices out over the telephone due to our personalised quote service. Your emails and enquiry forms will go straight through to the quoting team in the office, you will normally receive a response within a hour. Your email will contain a selection of our hog roast Cambridge menus and the price for each. Once your hog roast quote has been sent out to you will receive a follow up call from a Spitting Pig Cambridge caterer. This is too see if you have any questions about the information we have sent you and to see if you wish to make any changes to the menus.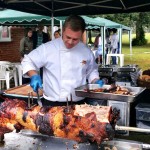 So with this wonderful personalised service on offer what more could you possibly ask for? Get in touch with Spitting Pig Cambridge today and start enjoying our amazing customer service. We can help you by taking all the stress out of your event catering by doing all the hard work for you leaving you free to concentrate on other aspects of your event and most importantly giving you the time to relax and enjoy your event with the rest of your guests. We cater at private parties, business and corporate events plus we specialise in wedding catering. So if you are planning a party planner in Chatteris, a business based in Sutton in need of catering for your next corporate function, a wedding planning in Willingham or anybody else in the surrounding areas who wishes to plan and organise a party/ gathering/ function get in touch with Spitting Pig Cambridge today!
One of the best things about a hog roast at any event is the wonderful visual attraction it provides. Not everybody has had the chance to see a proper hog roast being done and it really is a great sight. It creates a sense of theatre for your guests as they get to watch and appreciate the sight of the traditional hog roast being cooked the way it should be by the Cambridge team.
Many of our customers often tell us they love how discussing the sight of the hog roast makes a great conversation starter for all their guests. If watching the hog roast slowly roasting away is not often to awaken your appetite they we can guarantee the aroma definitely will. You and your guest will be dying to tuck into the hog roast and we it will most certainly be worth the worth; tender, juicy and full of flavour like a proper hog roast should be. Once everyone has had their first serving we predict they will be queuing back up for seconds and even thirds until every scrap of the wonderful meat has been devoured. Get in touch with Spitting Pig Cambridge sooner rather than later as we are becoming more and more popular each and certain dates are booking up fast! So what are you waiting for? Contact us and let the amazing hog roast experience begin. We can't wait to receive your call or email and start planning the catering for your event.