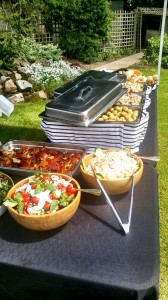 My name is Tony and my better half is Silvana and we have been in the Catering business a number of years now and we are still going strongly and loving every minute of it!
We have a catered for a number of events from Private Parties in our customers own homes to the more formal ceremonies held in luxury venues. We are always on the go and travelling to many of our events to put on a great show aswell as delivering excellent food. Silvana is a great perfectionist and always goes that extra mile to dazzle the guests at any event we attend- she makes alot of the sauces at home with her fresh ingredients and always likes to prepare the ingredients from scratch and is very artistic when it comes to the presentation for all of our dishes. (Take a look at our gallery to see for yourselves). The service has to be just as good as the food we serve, aswell as our own personal presentation and hygiene.
Personal Touch On Every Event
Our Menu's range from a simple pig in a bun which is served with our famous Crispy Crackling and Apple sauce. This again is not only what we have on offer but our Menu's have a wide choice of meats to choose from aswell as the vegetarian alternatives. There really is something for everyone and if you are not totally satisfied with what you see on our Menu's then you can simply create your own to suit you and your guests. Our Customers are always very friendly and excited when it comes to knowing that we are catering at their events, as throughout the years we have received some excellent feedback and great reviews about our cooking and the Hog Roast being cooked to perfection.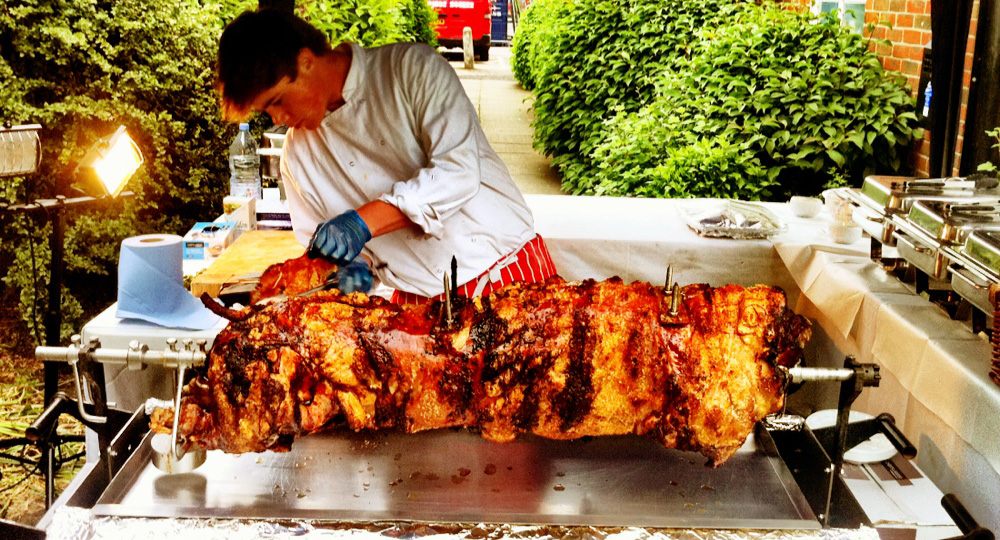 Over the years, we've had lots of amazing feedback on events we've catered, leading to both a great sense of achievement for ourselves and a stellar reputation in the Cambridge area. We've had many returning customers who have loved our food and service so much, they've booked us time and time again.
In the catering business, long hours, hard work and lots of travelling can at times be tiring. But getting to put a smile on the faces of our clients and their guests, seeing new places and meeting new people all mean we enjoy our job now just as much as we did when we first started years ago. Now more than ever, hog roasts have steadily grown in popularity, meaning we've had more and more opportunity to do the thing we love and perfect the menus we offer, which can include canapes, main courses and desserts.
Not only this, but we hire out our machines, too. So, if you're a restaurant owner or avid amateur chef who fancies being the star of the show, why not challenge yourself trying your hand at a home hog roast? No matter the time of year or weather conditions, our machine hire services and superb catering is here for you come rain or shine.
A Diverse And Experienced Team Of Caterers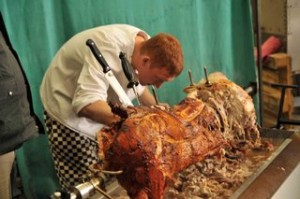 If you are looking for some extra special catering in Cambridge then you have come to the right place and myself and the rest of the team would like to welcome you to the wonderful world of hog roast Cambridge. We are an outstanding Brampton hog roast catering company based in Cambridgeshire and we specialise in Sawtry hog roast catering. We travel throughout the county delivering our fantastic Suffolk hog roast feasts plus other culinary delights and the very special Spitting Pig service to our satisfied customers in Suffolk, Brampton, Sawtry and many more Cambridgeshire locations.
The Hog Roast Cambridge team consists of myself and a handful of other professional chefs and catering assistants who like me have a true passion for creating and delivering excellent food. The whole team understands the importance of using fresh, good quality and locally produced goods to create magnificent feats that our customers will thoroughly enjoy and never forget. We are all fully trained and qualified in the catering field and have extensive knowledge and experience of hog roast and barbecue catering. Each and every one of us loves working in the catering and hog roasting industry and we really enjoy our jobs. This makes a real difference to our customers as our attitude and dedication to our work creates the perfect atmosphere at their events and as we serve you and your customers with a smile you can be sure we have enjoyed cooking the feast almost as much as you will enjoy devouring it.
More About Spitting Pig Cambridge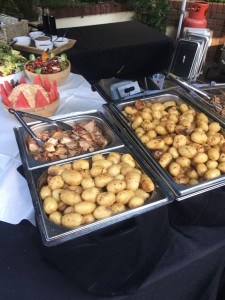 So now you know a little bit about myself and the team let me give you a little bit of Spitting Pig Cambridge history. I began the business a few years ago when I was working as the head chef for a large hotel in St Neots. One evening we were doing a medieval themed banquet for a special event, of course no medieval banquet would be complete without a traditional hog roast so we hired a machine and sourced a quality pig from an award winning butcher in Brampton (who I still use today for all of my events) and set out to do my first hog roast.
I was more than impressed with the outcome. The meat was cooked to absolute perfection and was the perfect melt in the mouth texture, and the flavours were incredible. It was not just myself who was impressed as all the guests at the medieval event were coming back for more of the delicious meat and declaring that a hog roast would make the perfect party food for lots of different occasions. It was this night that the idea of my very own hog roasting business was born and it was not long after this that I purchased my very own hog roast machine and started catering small events in my spare time.
My first event was a twenty first birthday party who chose to have a hog roast in Sawtry. I did a simple hog roast buffet menu and served up a delicious hog on bread rolls with apple sauce and stuffing. Once again the hog was perfectly cooked and the birthday girl and her guests were more than happy with the party feast. It wasn't long before I was getting more and more bookings for my hog roasts and I found I had to give up my job at the hotel as a restaurant chef so I could dedicate all of my time into Spitting Pig Cambridge. I also employed some fellow chefs and catering assistants who shared my passion and enthusiasm for catering and hog roast catering.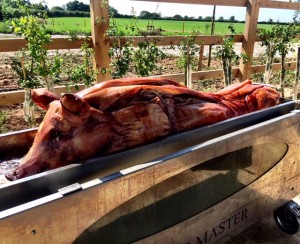 Since then the reputation of the business has grown from strength to strength. The popularity of Hog Roast Peterborough has also soared in the last few years and we have found ourselves busier then ever and a firm favourite with thousands of people all over Cambridge. We want this to continue and we want to share our fantastic St. Neots hog roast and barbecue feats with even more people throughout the county of Cambridge so if you are planning a party or event then please get in touch with us today and let us take care of the catering for you. Take a look at our menus, we have sample menus for private parties, corporate hospitality and even wedding menus. if you don't find exactly what you want within this selection then please give us a call or email and the my Spitting Pig Cambridge team would be more than happy to create a menu especially for. We look forward to hearing from you and catering at your next event.