As Cambridgeshire's best catering company, the team here at the Spitting Pig will use their expertise to help make your event a truly memorable experience for all involved. The traditional method of hog roasting has become immensely popular due to the novelty of the roasting method and, of course, the delicious food. Our chefs have perfected the art of roasting meat and we bring this skill to every event that we cater for.
Suitable For Celebrations Of Any Size in Cambridgeshire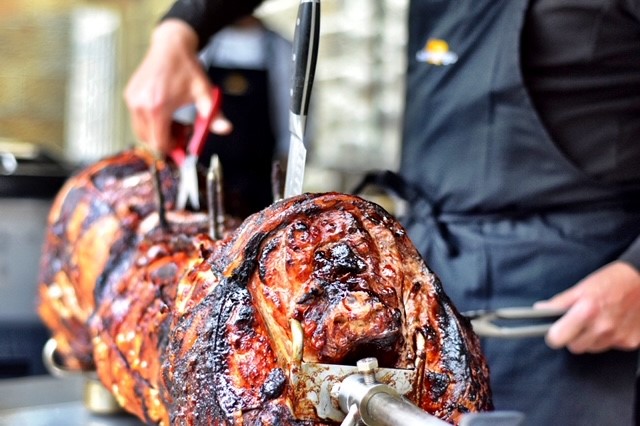 Whether it is a wedding or a charity event, a barbecue or a family party, the Spitting Pig hog roast Cambridgeshire team can provide a uniquely catered buffet or sit-down dinner that will delight and fully satisfy each one of your guests. Professional chefs use fresh local produce and meats to create a wide variety of dishes and can provide options for your guests with special dietary requirements. 
Our courteous and highly trained staff provides outstanding service and support to help ensure that even the largest of events run smoothly. The Spitting Pig also provides cutlery, crockery and clean-up, relieving even more stress and allowing you toactually enjoy your own party. If you are feeling adventurous and don't want to avail of the full catering package that we offer, you have the option of putting on an apron and doing the roasting yourself. Roasting machines can be rented by the day.
Delicious and easy menus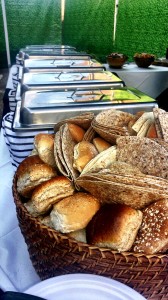 The Spitting Pig Cambridgeshire offers a variety of other meats in addition to whole roast hogs; beef and lamb can be roasted as well as chicken. Vegetarian guests will enjoy the large number of vegetable side dishes along with some delicious desserts. We offer sample menus for parties, corporate hospitality and wedding celebrations. If Spitting Pig Cambridgeshire doesn't offer a menu to your tastes, let us know and we'll create a menu designed for your specific requirements.
If you'd like to impress your party guests without having to personally manage everything, consider hosting a hog roasting for your next party.  The innovative method of cooking combined with the wonderful food and excellent service make the Spitting Pig Cambridgeshire hog roasts both unique and memorable.