Hog roast hire Chatteris by Spitting Pig is the best there is in the area. What's note worthy about our hog roast hire, aside from the mouth watering food you'll cook with it, is that we have lengths of machine hire for anyone and everyone. We're not one for saying 'Hey, if you're throwing a birthday party why not hire a machine' and then subsequently trying to have you pay for 30 days of hire, 29 days more than you need – that's not how Spitting Pig hire works. Instead we have hire periods to suit your actual needs. You can hire monthly, weekly or daily from us.
The Hog roast hire Chatteris machines we have are made from the finest materials with cutting-edge scientific understanding of hog roasting. These aren't any machines, they're machines we make ourselves with expert input from the best hog roast chefs along the way. The result is that when you hire from us your machine is CE marked, which means it's passed rigorous assurance tests so it can be sold or hired on the European market – And what that really means is that you won't have to worry about the machine falling to pieces on you, because ours are ever-reliable.
With a hired machine anything you want to cook is fair games, as the machine has skewer attachments that can be used on all sized whole and meat cuts. Your favourite meats can be cooked with the machine. You can hire a machine from us with a tray roasting function as well. Not just that, we have machines which come with a built-in commercial griddle and with that you can grill practically anything –  burgers, sausages, steak, chicken breasts, mushrooms, peppers, you name it and you can cook it, it's very practical.
The Best Hog Roasts In Chatteris
It shouldn't be a surprise to you if we tell that we can do the same thing ourselves when we hog roast cater. Lots of Hog roast Chatteris menus, lots of dishes, all created and presented professionally by a team of hog roast professionals. With the best there is for machines and hog roast chefs and staff we can make hog roasts in great abundance. You'll know from our catering packages that we make hog roasts and spit roasts for all manner of event types, but what you might not know is that we can make them for events that are all manner of size, too. 20 people, 600 people, 6,000 people, we can do it all.
A roasted Hog roast Chatteris pig cooked on a spit is something entirely different, at any event, if you look at any of our website pictures or do a quick Google search you'll see that they really do look magnificent and will get anybodies appetite going. Our roast hogs are the best yet, made with hog roast machines that are genuinely impressive even when taken by themselves, with some of the biggest and best pigs in Chatteris. Your guests can really pig out on our hog roasts, we can cook pigs that are huge, even by normal hog roast standards. Some of the free range pigs we cook can actually get up to nearly a whole 100kg in weight. Even with a smaller pig what you get from our hog roast presence at your event is a guarantee of excitement. Spit roasts are live culinary theatre, a visual taste of what's to come and something that never fails to grab peoples attention and kick-start their appetite.
Leaders In Our Field
We have many menus found on our menu page and what all the menus share is that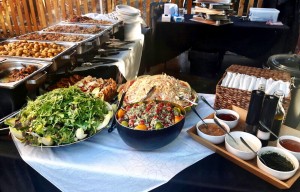 they're utterly scrumptious, no matter your choice. We make each item of food we cook as good as our notoriously sizzling spit roast pigs. You can have faith that no matter what you pick for your event, be it a spit roast lamb or a selection of canapes, they'll come with the same quality and hearty goodness of our main hog roast attraction.
The hog roasts and spit roasts we make are with free range produce, the finest meat there is. As hog and spit roasts are so simple by their nature, the deciding factor in the enjoyability of a hog roast is the machine used and the produce cooked, with our hog and spit roasts you'll be able to taste the freshness as soon as you get your teeth stuck in, the taste of a fresh regional pig cooked on our spit roast machine is one of the simple pleasures in life.