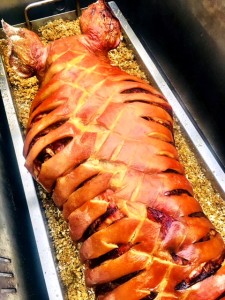 Serving our hog roast in Haverhill is always a pleasure. Located in Suffolk but close to the county borders of Cambridgeshire and Essex, Haverhill is home to around 20,000 people who know how to enjoy good food! Our hog roast Haverhill services have attracted hundreds of happy customers in the area which is no surprise seeing as we only use the highest quality reared hogs for our hog roast Haverhill meat. The town is home to the non league club Haverhill Rovers FC which was first established way back in 1886. We have worked at many events which have associations with the club, and our hog roast services always go down a treat. Indeed, there are many sporting opportunities in the Haverhill area. The beautiful 18 hole golf course is an excellent facility for all keen golfers, and the Haverhill golf club has a thriving social scene. Our hog roast Haverhill catering in Haverhill is well known for its' first class service and we have always found the golf club to be full of fantastically friendly people. Other significant sports clubs in Haverhill include the cricket club, and an angling club. There is also a public leisure centre which is perfect to hire out as a venue when you want to hold a hog roast Haverhill party or reception.
Even better, we know from our hog roast catering experience that Haverhill is home to some fantastic pubs. If you want to experience a true English summer afternoon in the countryside, you should definitely come along to one of our hog roast catering events in one of the many fine Haverhill pub gardens. We have always been given an extremely warm welcome by the area's landlords when we take our hog roast Haverhill services to their pubs, and Haverhill people are incredibly friendly.
The Centre for Computing History is a recent and important addition to the local scene in Haverhill. Considered to be the only museum in the United Kingdom which is dedicated to documenting the story of the Information Age, the centre was funded by a collection of Haverhill businesses, individuals, and the local council. Admission is free but visits have to pre-arranged, so next time you are attending one of Haverhill hog roast catering events you should book in a visit. The town also has a lively arts and culture scene centred around the Arts Centre. We have enjoyed meeting some incredibly interesting people who have experienced a range of different cultures when we've catered hog roasts in Haverhill.
The Best Hog Roasts In Haverhill
When it comes to hog roast catering in Haverhill we really do have the local touch. Our hog roast Haverhill events on the banks of the River Stour have become the stuff of legends in certain local circles and we have the insider knowledge to make every Haverhill hog roast catering event run as smoothly as possible. No matter whether you are holding a pub party or family christening event, our hog roast services in Haverhill are a great way to feed all your hungry guests.
Something that is often asked of caterers at a hog roast event is what makes the taste of roasted pig so special. First of all, it must be really nice when you get asked a question like that because it goes to show just how that the caterer is doing a good job, but it is an interesting point. Whether it's a Haverhill hog roast or one for anywhere else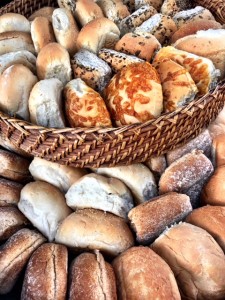 in England, just what is that secret something that makes the meat so tasty and the crackling so delicious?
Well, it is certainly not something that comes out of jar or some artificial nonsense, because when it comes to cooking at a hog roast Haverhill event then there are only three things that really matter to the hog roast chef and that is great quality meat, a great machine to cook on and the great benefits of slow roasting. It really is that simple isn't it?
Unfortunately, simple is not a word that the hog roast chef in Haverhill does not understand. Simple is a word that is often reserved for the caterers who serve up sandwiches and push buttons on microwave ovens. The world of hog roast cooking is alien to these people! Just imagine the shock that it would be for the microwave caterer if they were told that they would have to cook a meal for six hours. It would indeed be enough to see the blood drain from their face but this is the length of time that it takes to cook a hog roast. During those six hours the meat soaks up all that incredible meaty flavour yet is prevented from drying out by the fat. Great quality local meat with the right fat layer makes the difference, as does the great hog roast machine with its superb cooking abilities, perfectly designed to produce the very best meat that there is.
Next time you are invited to an event in Haverhill and you see that it is hog roast, bear in mind the effort that has gone into producing such immense tasting meat and remember that simple ingredients don't always mean simple cooking.