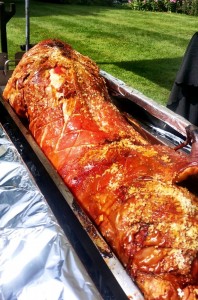 Welcome to our Spitting Pig Littleport page, this page is dedicated to all the brilliant hog roast services that you can use us for. We have it all – Machine hire, Party Catering, Wedding Catering, whatever you can think of it's like that we're a few steps ahead of you and already have a hog roast Littleport service created for that very purpose, because that's what we do, we make services to suit every manner of hog roast need, and that's why we're known as the nations best hog roasting company.
Hog roasting isn't only something that can be enjoyed at an event or at home by booking a Spitting Pig catering team, as well as being that it's something that you can quite easily, without spending much money, have by hiring the tools we use to make them, that being our amazing hog roast and spit roast machines. You'll have the best tools to make a hog roast for your event or business with a spit roast machine from our range. We're known for having the best machines in the hog roasting industry, supplying them for many clients, other hog roast companies included. If you hire a machine, whether for a day or a month, what you're hiring is the best designed machine on the market, one that will make you a spit or hog roast with almost no work required on your part.
The Best Hog Roasts In Littleport
What's note worthy about our hog roast hire Littleport option, aside from the mouth watering food you'll cook with it, is that we have lengths of machine hire for anyone and everyone. We're not one for saying 'Hey, if you're throwing a birthday party why not hire a machine' and then subsequently trying to have you pay for 30 days of hire, 29 days more than you need – that's not how Spitting Pig hire works. Instead we have hire periods to suit certain uses. You can hire monthly, weekly or daily from us with hog roast hire Littleport .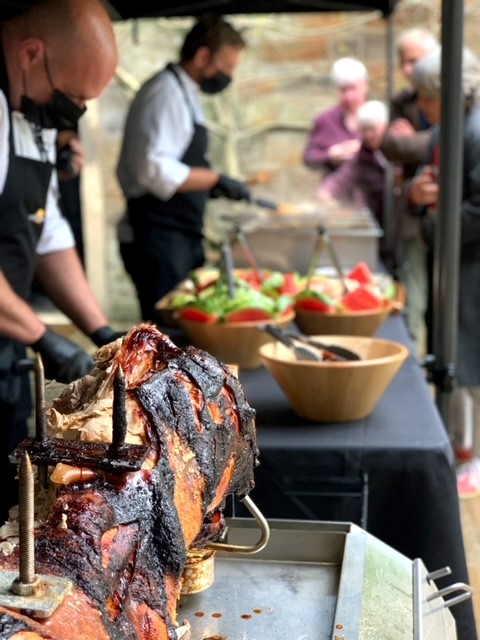 But if it is hog roast catering you're exploring for then don't hit that little x just yet because you're in luck, we're also the first choice for hog roast or spit roast catering, even tray roast catering. We spit or tray roast regionally sourced, free range lamb, pigs, beef(sirloin, not whole), chickens and turkeys. If you've got a palate for traditional, rustic kebabs then you can even book a mouth watering one made by a Spitting Pig chef just for you.
We have many hog roast Littleport menus to offer your event. Our menus are built for purpose, we have a category for different events with a suitable choice of menus for each, making it easy for you to know where to look for a fitting menu. Without a doubt the favourite Spitting Pig menu hasn't changed over the course of our history, despite all the other great menus. What could this amazing, most popular menu possibly be? A no-nonsense, toothsome combination of spit roasted pig, crackling, stuffing, apple sauce and crusty rolls of bread. Sounds simple and that's because it is, it's also excellent value and an all-time classic that we can't ever imagine not serving. Of every event we cater that menu is booked a good every other event, people love it that much!
Leaders In Our Field
You don't need to have a pre-made menu at your event if you don't want, however. We have clients who regularly 'mix and match' items from menus to form their menus, we even do bespoke spit roast menus from start. If you call us by phone you can speak directly to someone in the office and discuss your bespoke ideas, we'll have a quote back to you in no time. We'll quote you for completely free, too.
Greater still, with Spitting Pig catering we know how to manage events, we know event management and business almost as well as we do hog roast cooking itself, that familiarity is what sets us so far apart as hog roasters. The food is delicious, that's a given, but we bring the service to match. Chefs, waitresses, the guys and girls in the office, they're all the epitome of professionalism. You won't find a better group of informed, courteous people as those at Spitting Pig. What that means for you is your event with the right menu will be treated to the finest there is at producing food, waiting on guests, greeting guests, even serving your guests drinks over the course of the evening. So when you have booked us you'll have the utmost confidence in our capacity to make your event a not-to-be-missed occasion.