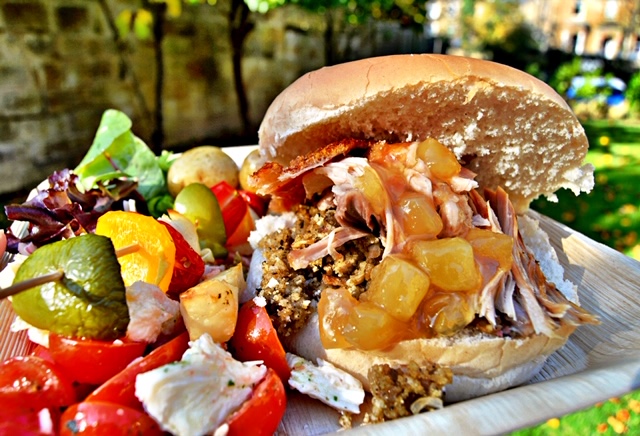 Hog roasting in Peterborough goes back many thousands of years, unfortunately we can't boast a history as a company going back so far, but we can say that even though we've only been here for just under a decade, we've more than made up for lost time. You only have to see the reviews of our company from customers or bloggers, or spend a few minutes in our office listening to our hog roast Peterborough staff taking phone calls, to know that the people of Peterborough have warmed to us very quickly.
Already we've established ourselves as the quintessential hog roasting team. For hog roast Peterborough catering we're one of the first companies called, as we guarantee luscious, textured hog roast meat at all events, for a great price. Our spit roast pig is the stuff of legend. And while there might be something to a hog roast on a spit by Spitting Pig, that's not to say that the tray roasted Peterborough hog roast is any less a wonderful way to make hog roasts, or to cook any other meats. Tray roasting pigs taste almost the same as spit roasting, because the quality meats we put in are so high we're always able to get quality back out after the cooking is finished. So whether you're roasting with a spit or in the oven, the final product will be spectacular meat and crackling that packs a flavourful punch to knock your taste buds out.
The Best Hog Roasts In Peterborough
Even though we could sit here all day telling you about the roasting side to our hog roast Peterborough catering and why it's the main attraction that it is for Spitting Pig, we wouldn't want to do a disservice and undersell everything else we're able to offer, because it's not by any means just hog roasting in which we excel. Part and parcel of so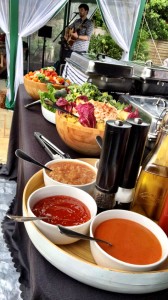 many of our hog roast/spit roast menus is a vicarious arrangement of other, more usual great foods. So while we can give you just a hog roast by itself, we can also give you a hog roast that comes as part of a larger menu, served with whatever you like, be it starters or desserts.
Such is the extent of the foods on our menus that we couldn't possibly list them all, but be happy to know that a hog roast or spit roast from us can be provided with any of the following: Canapes, starters, sides(including salad and potato options) and desserts.
It's even possible, as you'll see on so many of our hog roast Peterborough wedding menus, to have with your menu the additional options of being provided with an event front of house and drinks bar. With these services on offer, and the evident quality of our wonderful chefs and waitresses, it's not worth missing out on Spitting Pig catering. Please call us, we'll give you an in-depth run down of who we are, what we offer and why our catering is best for your party, corporate event or wedding.
Hog roast hire Peterborough really are the best caterers around we receive so much great feedback from our customers and in many cases they re-book for another event, this is a great way to build up strong relationships with our customers and really find out what they love about being a chef.
Pig is great for any occasion but you could have roast lamb on the spit instead, or maybe a couple of turkeys? We have an extensive range of menus and to make sure we have something for everyone we are totally flexible if you want to make up your own set meal. As all the dishes are prepared on site we can ensure that any allergies your guests may have are dealt with while the courses are being made.
Leaders In Our Field
Using us for your hog roast hire Peterborough will definitely be a show stopping meal but, as with all the best things, it takes time. We always arrive very early to any event, as roasting a pig can take up to six hours and we can't keep your guests waiting too long for their main course now can we? Once the hog is firmly roasting away you will be hearing everyone present casually bringing it up in conversation, while the smell of its juicy pork works its way round the room. Their eyes will then turn towards the pig, being able to see it nicely browning over as it slowly rotates and the crackling pops over the flame. We guarantee this is a feast fit for Peterborough and one you will be looking to have again and again.
For those of you who want to throw the banquet all by yourself we can rent you the hog roast hire Peterborough machine. This would be the perfect way to see out a weekend.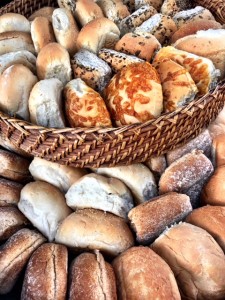 Hog roast hire Peterborough seems to work beautifully for any kind of event weather it be a party, christening, corporate event, works do or a wedding we have everything covered. We offer over 8 different menus for you to choose from and its not only pig roast as mentioned earlier we can prepare we can also spit roast chickens, turkeys, lamb, beef and our gourmet bbq range. We also offer fresh Scottish salmon and cater for vegetarians. So you wouldn't need to un invite anybody from your event, the more the merrier.
Hog roast Peterborough offers its variety to customers in many ways, from King Banquets to BBQ feasts, we have the range needed to succeed in this popular type of catering. Our king banquets offer the finest cooked pork, lamb and beef, all locally sourced (helping out the local butchers!). Our meat is cooked slowly over a few hours and marinated in exotic sauces and spices. Our BBQ bonanza is becoming increasingly popular and includes sausage and burgers all handmade and served with onions and cheese. Chicken dishes are available including handmade kebabs marinated in our lemon and spice surprise.