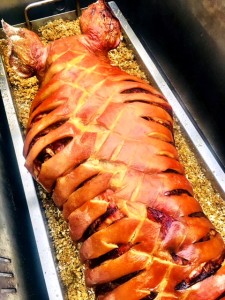 A roasted pig cooked on a spit has no competition, if you look at any of our website pictures or do a quick Google search you'll see that it really looks magnificent, and our roast hogs are the best yet, made with hog roast Sawtry machines that are genuinely impressive even when taken by themselves, with some of the biggest and best pigs in Sawtry.
You can really pig out on our hog roasts because we're anything but tight when it comes to serving up big plates of food, we can cook pigs that are huge, even by normal hog roast standards. Some of the free range pigs we cook can actually get up to nearly a whole 100kg in weight. Because we have a thing for cooking big, delicious whole pigs it means there's always enough meat, crackling, stuffing and apple sauce to pile up on the pig roast rolls we serve your guests.
Hog Roast Sawtry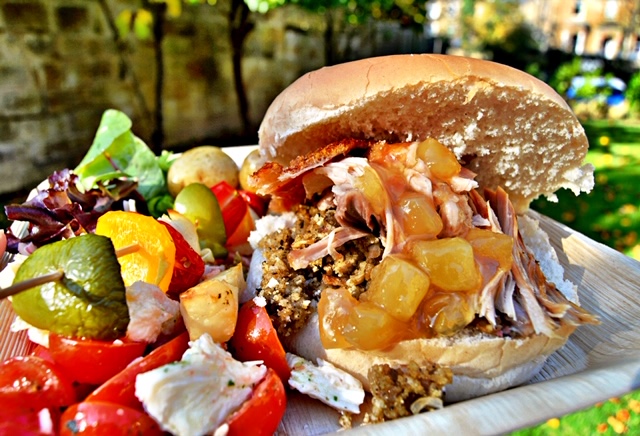 We're Spitting Pig and on our website you will find everything you need to know about first class hog roast Sawtry catering and machine hire. Our expertise with both has been developed over the decades, we've catered and designed machines with a ferocious ambition that's cemented our position as the number one choice for all your hog roast services in Sawtry.
From birthdays to business events, Spitting Pig has the tools necessary to blow the minds of your guests with luscious spit pigs, cooked hours on end until the tastiest golden-brown state is reached. The meat of our hog roasts is juicy, tender and has a mouth watering flavour like nothing else, and the crackling of the pig is often commented on as being the best people have ever tasted. Just look at the reviews we've gotten, guests and experts alike are raving about the superior taste of a Spitting Pig hog roast.
Even when cooking a smaller pig for your event what you get from our hog roast presence is a guarantee of excitement. Spit roasts are live culinary theatre, a visual taste of what's to come and something that never fails to grab peoples attention and kick-start their appetite – and with the best machines and best pigs a spit roast by us is even more striking than it usually is.
The hog roasts and spit roasts we make are with free range produce, the best meat there is. As hog and spit roasts are so simple by their nature, the deciding factor in the enjoyability of a hog roast is the machine used and the produce cooked, with our hog and spit roasts you'll be able to taste the freshness as soon as you get your teeth stuck in, the taste of a fresh regional pig cooked on our spit roast machine is the best you'll get. How else do you explain the hundreds of new clients we cater for with every new year?
Try Your Very Own DIY Hog Roast
Or if you'd rather we have a hog roast hire Sawtry service that we think you're going to like. The machines we create and stock are the best, so it makes sense that you hire from us, everybody else does, even our own competition! What many people love particularly when hiring machines is that they're firstly really easy to get to grips with, there's nothing complicated about them, but secondly you can hire for lengths that are appropriate for your needs. Machines can be hired for one day or one week or one month with hog roast hire Sawtry .
The machines can be transported easily for uncomplicated movement around your venue, though it's best to enquire as to the size first, venues with only small doors and gated properties have at rare times been a problem(we've always resolved the problem on delivery). You can use your machine for indoor and outdoor use and cook whatever you like with it. If you're intending to hire for outdoor use be sure to have some cover at hand if it starts pouring it down with rain though!
The meats you can cook with the machine are the same as with our menus, and some. Go wild, experiment, cook rabbits, pheasants, kangaroo, whatever you like, the machines have adjustable attachments created specifically for use with meat of all shapes and sizes. We deliver and return the machines without charge, we even chuck in free gas to power the machine for your event. Contact us today with your enquiries, the office would love to hear from you.