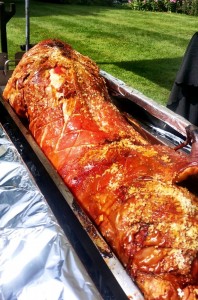 Catering is a tough and gritty business, especially for new companies, it's a case of survival of the fittest, where only the best survive over the long term. Proving that Spitting Pig is a hog roaster with real credibility, we've not only survived, we've thrived in this environment of dog eat by dog by making the finest spit roast meats – but you'll be glad to hear we stick to eating British classics like pig, lamb and chicken and any dog eating is purely proverbial!
For a hog roast Whittlesey event to be successful it can take a lot of work, the effort and expertise required to line up an event for perfect execution isn't always easy to get right, but it can be made easy with the help of Spitting Pig. For us organising events is what we do, we're involved in it most days of the year, it's this thorough background of hog roasting and event management that puts is in the best position to assist you with planning your event. Ultimately, spit roasting is still one of the most exciting propositions in spite of its thousands of years of popularity, this should tell you everything you need to know about spit roasting – There really is something magical to it, something that encapsulates imaginations and will see your guests over-awed by sheer enjoyment and child-like excitement.
The Best Hog Roasts In Whittlesey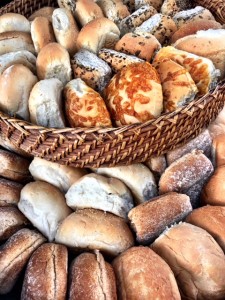 The choice of spit roasts you can have with Spitting Pig catering is great, we get a considerable amount of quote requests from people wanting a quote for each different meat option because they know they all sound equally as delicious as our roast pig, and that's because they are. For your spit roast (some of these can also be tray roasted) you can pick between many snack-in-a-roll meats. Spit roasted pig is served with stuffing, apple sauce and crackling. The roasted lamb is seasoned with rosemary and is served with a mustard & dill sauce and mint. The turkey option is served with sage & onion stuffing and fresh cranberries. Chicken is served with stuffing and a delectable homemade onion gravy. Then there's a sirloin of roast beef, we serve that with horse radish sauce and chefs red wine gravy. Finally another favourite item is the chicken kebabs and meaty marinated spare ribs menu option. We serve all of these in the finest soft floured rolls we have – fresh, of course. You can see how our hog roast Whittlesey has become so popular.
And that, as they say, is just the tip of the iceberg. All those marvellous, mouth watering choices are from our snack in a roll menu, a pretty straight forward and simple menu. From there on the menus get bigger and arguably better, with more tasty dishes added for bigger occasions. Like our buffet menu, perfect for a large informal gathering of people. Or our formal sit-down menu, the name gives that one away, it's perfect for a wedding, christening, even a Christmas party, or any type of black-tie occasion.
We bring our own serving tables and necessary equipment to make and serve your Spitting Pig hog roast in the best possible fashion. Many on the team would have a good career in professional cleaning, you'll see what we mean when you see what a professional job they do when cleaning behind themselves and packing away.
Leaders In Our Field
Scrumptious food more often than not is unequivocal, it can play a deciding role in the success of your event and the enjoyment your guests have – that's true for all occasions. What's also true is that not everybody wants catering, there are plenty of you out there who have the same passion for cooking as our hog roast chefs, which is why for you we've created a dedicated machine hire package, a selection of them actually.
The hog roast hire Whittlesey service has gone from strength, at the moment we have 3 different spit roast machines that anybody can hire. You can hire a machine for a one-off event or you can hire it on a weekly or even a monthly basis, so that no matter why you're hiring – be it for a party or for your own eatery – you can find the hog roast hire plan which suits you. The spit roast machines for hire are exactly the same as what we use when we're at catering jobs, so all these great spit roast meals we've just told you about on our menus, you can make yourself with hog roast hire Whittlesey .
The bonus to all of this is that you can contact us for as many free quotes as you like, by phone email or even by using the contact page on the website, where you'll find an easy to use quote form.