At hog roast Wisbech we pride ourselves in offering superb service and only the finest quality meats. All our meats are locally and ethically sourced and are guaranteed to be of the freshest quality. The beauty of a hog roast event lies in its simplicity. Simply fire up the flames then relax, enjoy your event and let the machine do all the work. Hours of slow roasting guarantees a stress free event and perfect results every time. Imagine the most delicious melt in the mouth pork and the crunchiest crackling! Maybe topped with some home cooked gravy or a touch of fruity apple sauce? Delicious!
It's not just pork either, hog roast Wisbech can provide a superb range of meats including pork, beef, lamb, chicken, turkey and fish all cooked to perfection. Maybe you would like to opt for our popular Buffet Roast which offers a varied selection of roast meats, fish, salads, breads and all the accompaniments to suit all tastes and budgets. Plus, at the end of your event, our team are there to clean down and clear away, it couldn't be easier.
No visit to Cambridgeshire and The Wash would be complete without a visit to the historical market town of Wisbech. Affectionately known as the 'Captial of the Fens', this charming town has a character all of its own. Discover 'The Brinks', to see some of the finest Georgian streets in England or marvel at the stunning architecture, churches, museums, the Thomas Clarkson Memorial and not forgetting the ancient Port of Wisbech. Wisbech Castle and Gardens are also of worthy note in this charming town and offer the visitor fascinating tours of its historical features, gardens and dungeons.
The Best Hog Roasts In Wisbech
We have been serving the people of Wisbech and Cambridgeshire with some of the finest hog roasts, unforgettable events and unbeatable service for over fifteen years. If you are looking for the perfect catering solution for your next event or party then hog roast Wisbech can provide the perfect solution. Catering for any number of guests from five to five hundred, a hog roast makes the perfect choice. Weddings, birthdays, corporate events, beer festivals and family get togethers, the hog roast Wisbech provides outstanding service to ensure a trouble free event. Our team of professional caterers can provide all the necessary equipment, meats, sides and accompaniments to ensure your event is a success. We can provide marquees to suit all sizes of party or suggest local venues which would be suitable for such an event.
It really is your event and we aim to make every event bespoke to each customer. We can offer complete catering solutions, provide marquees, staff, tableware, drinks and complete peace of mind. Years of experience means we really know how to make your event special. Stress free and mess free, leaving you all the time you wish to enjoy your own party and mingle with guests. Call us today to discuss your next hog roast catering event or to receive a no obligation quotation.  If you would prefer something a little more extravagant for your event , why not choose from one of our hog roast hire Wisbech wedding menus? These are designed to create a relaxed yet lavish atmosphere when it comes to dining. Your choice of canapés are served as your guests arrive and when everyone is seated, starters are served to tables. If you would like to sample some of our canapés, starters or desserts, please do contact us at any time to arrange your complimentary tasting session. The main courses that we love to provide are always served buffet style with your allocated hog roast hire Wisbech chef carving the meat as your guests queue to fill their plates. This always creates a great talking point and the meat is always fresh and succulent.
Leaders In Our Field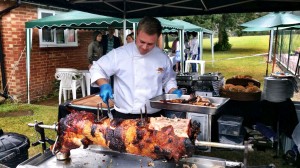 If you would prefer not to have pork, why not choose one of our other hog roast Wisbech menus? Chicken has become more popular over the couple of months. With spit roasted chickens you are able to choose your favourite seasoning. We catered for a wedding last weekend where they had half the spit roasted chickens seasoned with piri piri and the other half plain – they went down a treat!
Those wanting their wedding menu based around having a hog roast Wisbech for their main course and those that would prefer it in the evening. For all of these people after something a little different to the norm, we have designed menus that offer exotic salads and rustic vegetables. There are homemade sauces and desserts to die for. You would be hard pushed to find a tastier menu. Let me talk you through the typical hog roast menu. Take for example our simple menu 1. Spit roasted pig with apple sauce, stuffing, crackling and soft floured baps. If you have chosen this menu, our chef will arrive on site early to start the cooking process. All of our pigs are cooked fresh using one of our high tech machines. Once the pig (or your choice of meat) is cooked to perfection, your guests will be served with the most delicious meat on the softest baps. They will then be able to help themselves to homemade stuffing and apple sauce.