Welcome to Spitting Pig Cambridge, the home to the most reputable hog roasters in the whole of the UK. Take a look through our site, browse our menus and you will see for yourself what makes us the very best at what we do. Over the decades we have had the pleasure of catering for countless events of every kind, providing a service of the best quality that is a cut above that of our competitors. It is our high standards for both food and customer service that never fails to impress our customers and keeps them coming back for more.
From the youngsters who are amazed and astounded to learn where their food actually comes from (and how it should really taste), through to the veterans of society, who love the classic nature of our central spit roasting theme; we have food that everybody loves. Through adhering to the most ancient yet delightful method of roasting, whilst using the most modern and delicate approaches to catering, we allow people to eat restaurant smashing food, in whichever location they choose.
Hog Roast Cambridgeshire

Hog roasting is a traditional way of cooking meat in different counties all over the world and has been around for quite a number of years. Catering at events over the last eighteen years in Cambridge, Newmarket and Huntingdon and the surrounding areas has gone way over our expectations, as the popularity and demand for a hog roast at events such as weddings, birthday parties, christenings, schools and other corporate events seems to be at its highest yet, even in the winter months it seems that everyone is spreading the word as we are a highly respected and popular provider of hog roasts. With the over eight years experience that we have of carrying on the tradition of hog roast cambridgeshire across the Cambridge, Newmarket and Huntingdon area, we are able to bring a first class professional service to all of our clients at each and every event that we cater at. Hog Roasting has not been around for this many years for any old reason there is something quite show stopping about the sight and smell of the pig slowly cooking to perfection on our machines, which is certainly one of the reasons why our clients keep coming back to us year after year to book us for there upcoming events, many businesses use us for office parties and book us early every year for their Christmas lunch because at Christmas time we become very busy indeed.
The machines we use to cook our pigs on are sleek, sophisticated and top of the range this is so that we can bring the people in the Cambridge area the same traditional experience of watching the meat cook for an unbeatable experience leaving their guests will something spectacular to talk about. Here at Spitting Pig Cambridge we understand that organising an event isn't the easiest task and when striving for perfection it is often difficult to ensure that every aspect is problem free. No matter how big or small the event is we never let our standards falter and will go above and beyond to give you the stress free service that you deserve. Our expert team arrive on site with plenty of time to make all the preparations so that when it's finally time to eat the whole service runs smoothly.
Hog Roast Catering For All
Hog roast Cambridge have menus to suit everyone's budget with our most popular menu being our menu number one, it is certainly everything a hog roasting event should consist of; the pig, stuffing, crackling, bread rolls, sauces and a chef to cook the meat for you whilst you enjoy your event. A menu that is simple yet amazingly tasty, the aroma of our tender hog roast never fails to get mouths watering. The way our machines cook a pig means that trying the succulent meat that melts in your mouth is a great experience that everyone should try, as well as a great meal. If you love crackling then you won't be disappointed as our machines produce the best tasting crackling you can get your hands on. Our team here in Cambridge is made up of fully qualified chefs who present themselves professionally in uniforms and chef whites. With their wealth of knowledge and experience they ensure that our customers get the best quality food and give them the confidence to come back to us again and again.
Catering for our customers in the Cambridgeshire areas is always a great pleasure for us, as we love to catch up with regular customers and get to know our brand new customers. We can cook up a hog roast treat for any type of event and we can work 7 days a week 365 days a year. So whatever the occasion may be and whenever it may be taking place The Hog Roast Cambridge team can be relied upon to create a mouth watering feast that you and your guests will devour and enjoy. Hog roast Ely has always been extremely popular in the area and Over the years I have cooked up, carved and served many hog roasts in Ely and its surrounding areas. Lots of our loyal, regular customers are based there so its always nice to go back and help them host their family parties, wedding celebrations and business events.
The cathedral city of Ely may be one of the smallest in England but its still bursting with activity and always provides us hog roasters with many parties and annual events for us to cater at. For example the Aqua fest, which has been held every year for the past thirty three years, the annual fireworks display in Ely Park and of course not forgetting The Ely Folk Festival. These are just some of the events that Spitting Pig Cambridge have been proud to be part of as we provided first class hog roast feasts for these events and many more private parties, weddings and corporate occasions. Our hog roast and other meat roasts continue to be a big favorite with the people of Cambridgeshire so we will keep returning to share our hog roast catering skills and unbeatable food. In contrast to Ely with its numerous events and constant activity is another firm favorite of ours to visit and cater hog roast in Fordham and this is the a wonderful village.
Fordham is surrounded by beautiful countryside, providing the perfect aesthetics for anyone to relax and unwind whilst enjoying our perfectly roasted hog. The peaceful rural village has been the location of many small scale events and parties catered for by Spitting Pig Cambridge and throughout spring and summer we are often invited to Fordham to cook our barbecue menus.
For our barbecue treat in warmer months we source premium quality burgers and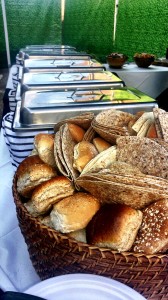 sausages from local award winning butchers, and once cooked to perfection by our skilled chefs they never fail to impress. As well as enjoying the perfect scenery whilst travelling through Cambridgeshire, we love to take the opportunity to stock up on great quality locally grown produce along the way. Whether we are catering for summer celebrations or cooking up a festive feast of spit roasted turkey in the run up to Christmas, Cambridgeshire never fails to provide a bounty of great produce. The March Farmers Market is a great place to get the best that Cambridgeshire has to offer and we believe that using the freshest fruit and vegetables in our salads and sauces alongside the premium quality meat is what gives our food that great taste that our customers love. Spitting Pig Cambridge is absolutely dedicated to providing exceptional food and it is our number one priority to use first-rate ingredients, allowing our customers to be confident that they are being served with nothing less than the best. So wherever you are in the charming county of Cambridgeshire, make sure you get in touch and let us deliver an unbeatable service with the finest food for the best prices!