If you've just started to think about your wedding plans but are stumped on which style of cuisine would best suit your theme, then you're in luck because Hog Roast Mill Road is here to present to you the perfect catering solution!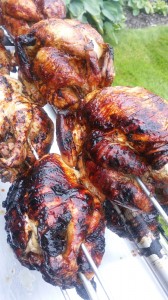 While hog roasts themselves have been rapidly increasing in popularity over the past few years (likely due to the fact pork is the single-most-popular meat in the world), we also understand that it's not to everyone's liking. Maybe your guests would rather sit down to a succulent chicken dinner, a juicy leg of lamb, or a meal without any meat at all? Yep, you read that right. Our menu features several veggie and vegan-friendly dishes that have been known to tempt even the most carnivorous of guests. So, you can feel confident knowing that when you choose us, every single one of your invitees will be able to enjoy what's on the menu!
For us, it's all about keeping our customers and their guests happy, and you can always trust that here at Hog Roast Mill Road, we'll do our very best to deliver an extraordinary experience that ticks every box. From serving lip-smacking foods to our outstanding customer service that will allow you to imagine a totally unique dining plan, we're confident that we can cater to your every need.
After having heard all of this and more, we were recently approached by bride-to-be, Sarah who is planning on getting married in late September. At the moment, she and her partner, Craig, are looking at having an outdoor ceremony (weather permitting!), followed by a pastoral-themed reception, complete with rustic seating, stag antler centrepieces and a magical flower canopy.
The pair can't wait for their special day to arrive, and after securing their dream venue, they immediately contacted us to sort out the meal. Right away, our Hog Roast Mill Road catering manager was able to direct them straight to our southern slow roast menu, which perfectly fit the vibe the couple were looking for.
Not only was the menu an instant hit, but Sarah and Craig have been so pleased with how accommodating our team have been, which is further adding to their excitement for the wedding!